Are you confused when a guy says he isn't ready for a commitment, but he won't let you go? You know he is into you. You can feel it. But his conflicting signals weigh your self-esteem and your confidence. As a result, you're feeling even more in love with him.
Women often have problems dealing with a guy who's not ready to commit in a relationship, even though the guy is clearly attracted to her. Likely one of these is the reason why:
You are over-eager, or too clingy. This means he hasn't had the chance yet to feel what it's like to miss you.
He just got out of a committed, long-term relationship, and he wants to be single or take things slower for a while.
He hasn't gotten over his ex.
He fears losing his freedom.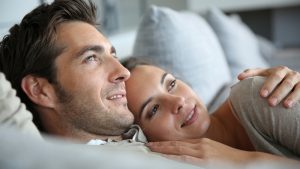 Jenn was one of those struggling women, but she followed my advice. She started a dating rotation, and moved on from emotionally unavailable man (EUM). Jenn is engagement number 34 that I know of so far this year. Here's Jenn's story:
I was introduced to Gracie's blog by a friend who wanted me to see what I thought of the teachings there. I was in a relationship with an EUM for a couple years. I thought the relationship was healthy, but it wasn't.
We saw each other every day. We spent most of our free time together. But deep down inside, I knew he wasn't the one for me. I started reading Gracie's blog posts and comments of other womens' struggles, and realized my relationship wasn't going anywhere. I broke it off.
At that point, I was done dating duds. I decided to get on tinder just to see what was out there. I literally had no expectations. I matched with several guys, but one in particular  really caught my attention. We hit it off immediately.
It was hard at first for us to get together. We both had very busy work schedules. So we texted during the day, and every evening we chatted on the phone. I was smitten. But at one point in a conversation, he told me, "I'm not settling." I didn't know what he meant at the time.
But I know now.
Before we met, he'd dated many other women. I asked him why the other women turned him off, or why those relationships failed. He said the women were too needy and too pushy. His last girlfriend had pushed so hard for marriage that she moved across the country to be closer to him. That turned him off. He wasn't ready for a relationship like that with her.
Then we met. He said that he knew before we even met in person that I was the one for him. We've been exclusive from the very start, and he recently put a ring on it. We got engaged!
Do your research, ladies. Follow Gracie's advice. Trust me, she really knows what she's saying. I couldn't possibly thank Gracie enough.
Don't settle. Stop making excuses for deadbeats and losers. Stop undervaluing yourself. If a guy really wants to be with you, he'll make every effort to do so. Avoid chasing him, and avoid making the first contact. Stand back and wait. It really works!
Thank you, Gracie. I would not have found success in my relationship without your expertise.
Since starting my blog, I've found out how to best turn situations like this.  I specialize in difficult relationships and in men who don't want to commit.
Turn your situation around by not pursuing and not pressuring guys. Manage your emotional investment wisely. Keep dating your guy, but keep your options open. A better guy may turn up. Or, you may find you're not developing a connection, so you're able to walk away without  heartache or drama. You will get what you want.
The intermittent reinforcement of a dating rotation gives you the impression that you're connected, with no anxiety. If you do feel anxiety, heed it. Don't let it cloud your perspective. You care less, and he'll care more.
And if a guy says he's not ready for a commitment or doesn't want to be in a relationship right now, he may mean he doesn't want the relationship with you. This is usually not true.
Don't listen to that. Read through my blog. It will change your life. You need to grasp the methods that really work with men. Many followers of my blog have gotten married, engaged or are in committed relationships with their former EUMs.
Now's your chance. Take it. And, good luck!
Top/Best North America Psychics | Genuine Love Psychic Reaidngs‎